Voted One of the Nine Top Art Instructors in Jacksonville - 2017
I had the unexpected honor of being awarded as One of the Top 9 Art Instructors in Jacksonville Florida, by Expertise.com.
They Looked at 178 painting & drawing teachers in Jacksonville and picked the Top 9, of which I was included!

Check out what they had to say: "Marisa Yow welcomes students of all levels of skill and experience to join engaging and informative classes in drawing, oil, and acrylic painting. The Jacksonville-area contemporary American painter focuses on teaching participants the fundamentals and foundational principles of art. The talented visual artist holds an advanced art degree and has a passion for sharing her love of drawing and painting. She concentrates on teaching small group and private lessons to allow students individualized attention in a relaxed and non-intimidating learning environment. Class participants can expect to learn the necessary skills and techniques to accomplish individual artistic goals as either a hobbyist or aspiring artist. Marisa Yow conducts in-depth, hands-on sessions that help students learn to paint one-of-a-kind masterpieces."
---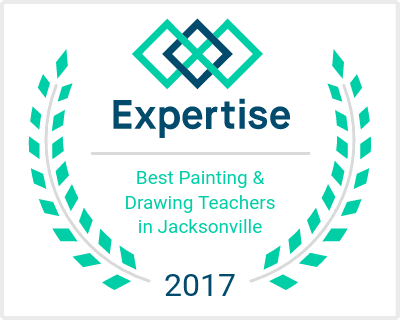 Class Information
I will be offering small classes or private lessons. Classes are set up so that each student can be addressed at their own level. Class size and space is very intimate and allows for one on one time. Size 2-3 students. Each student may work on their own individualized studies. Classes will meet once a week for 6 weeks.

Drop In for one or two classes if schedule permits. Inquire for Individual Class Cost.

Make Up Classes ​Sorry but due to the nature of these classes, makeup classes can't be offered.

Classes and Special Courses!!- For Adults, Teens & Young Adults. ( for children please contact)

Specialized Direction in Courses: FOR TEENS - Portfolio Development, AP or IB requirement support for Drawing and Painting Portfolio Review and College Preparation.

Classes/ Mediums Offered Drawing , Painitng ( Acrylic or Oil ), Mixed Media Drawing with watercolor, pen and ink and gauche, Etegami, Figure Drawing (from Photos, student may pay for model) model only available at CoRK

Classe Level- All levels, beginning - advanced.

Class Length: 2 hrs.

Prices : ​ $250 + tax 6 week classes Drop Ins : $40 per class
Payment Due at time of first class, credit card or cash accepted. Unable to give refunds do to nature of scheduling classes.These classes are a great way to have a lot of one on one time, specialized time.

Dates: To BE ANNOUNCED ; ClASSES RESUME IN SEPTEMBER


---

​Classes at Personal Studio in CoRK Arts District
​
I offer the same set of classes in Riverside as I do in Ponte Vedra, the only difference is the time, classes are offered from 11 -1pm. I also offer private instruction classes from my personal studio, its a great chance to get to work in a private artist studio. Personal instruction rate is $50 per hour with a minimum of 2 hours per session. I also offer group rate of $120 per 2 1/2 hr session with a maximum of 3 students per private instruction.

I also make studio visits, at your studio or in home for art consultations. If interested please email.